Need more details?
Get a quotation?
Request for a demo?

CMC 430
Ultra-portable protection test set and calibrator
Change cookie settings to load video. Allow marketing cookies.
The accurate, lightweight champion
The CMC 430 is the preferred choice for test engineers in cases where excellent transportability is needed and three currents up to 12.5 A or six voltage outputs are sufficient. Its low weight of just 8.7 kg / 19.2 lbs, and robust design with its edge protection predisposes the device to every outdoor and indoor use. Typically, this device is most suitable in environments where numerical and communication based protection prevails.
With this extraordinarily high precision, it is also an ideal source based calibrator for all kinds of measurement devices, such as energy meters, transducers, PQ meters, and PMUs.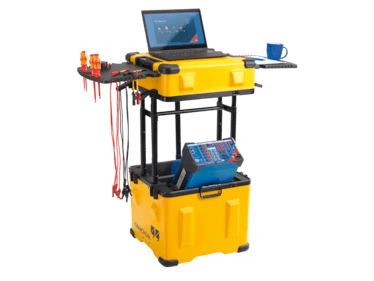 Hybrid measurement and recording
The CMC 430 combines its outstanding performance as a relay tester and calibrator with hybrid measurement and recording facilities (analog, binary, IEC 61850 GOOSE messages and Sampled Values) with EnerLyzer Live.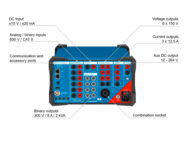 Key features
Lightest multiple phase secondary test set in the world (8.7 kg/ 19.2 lbs)
Precise test signals for protection testing and device calibration
Robust design with shock absorbing edge protection
All terminals on front side
Testing static, numerical and communication-based protection schemes (IEC 61850)
Three powerful 100 W current amplifiers (for example burden measurement)
Six voltages for testing synchro-check and bay control systems with six voltage inputs

Compatible operating software

Test Universe
Specifically designed for settings-based protection testing with a high degree of automation, our modular software Test Universe offers numerous functions and application-optimized test modules that save you valuable time.
RelaySimTest
With its novel and future-oriented approach our software solution for system-based protection testing, performs tests independent of relay type, relay manufacturer, and offers extensive parameter settings. It focuses on the correct behavior of the protection system by simulating realistic events in the power system.
CMControl P App
Use CMControl P App for quick and easy manual testing.
EnerLyzer Live
With this software the CMC test set becomes a multifunctional measurement and recording unit. You can use EnerLyzer Live in parallel with the software used for operating your CMC.
CMEngine
The open programming interface CMEngine enables you to integrate the CMC test sets into your own testing environment and control them within any type of application.
Change cookie settings to load video. Allow marketing cookies.
Training
October 2 - 5, 2023

, Saudi Arabia
English
Test Universe
,
ADMO Time Grading
,
CMC Family
December 12, 2023

Training Center Hong Kong, Hong Kong, China
English
IEDScout
,
StationScout
,
ISIO 200
,
Test Universe
,
RelaySimTest
,
DANEO 400
,
CMC Family
December 26, 2023

Training Center New Delhi, New Delhi, India
English
Get in touch
Need more details? Get a quotation?
Request for a demo?
Contact us now