Need more details?
Get a quotation?
Request for a demo?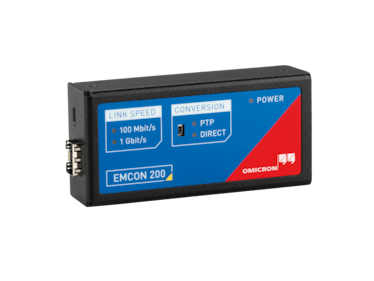 EMCON 200
PTP transparent Ethernet media converter
Media conversion with time precision
EMCON 200 is an Ethernet media converter used for connecting optical fiber and twisted pair copper Ethernet networks. Copper-based connections are limited to a certain data transmission rate and distance, whereas optical fiber cables can transmit more data over much longer distances.
EMCON 200 can also be used in networks with different fiber optic link speeds and wherever IEEE 1588 Precision Time Protocol (PTP) time synchronization is required. EMCON 200 is also a valuable accessory for OMICRON's CMC and DANEO 400 devices that can provide the power required for EMCON 200 with an Ethernet cable (PoE).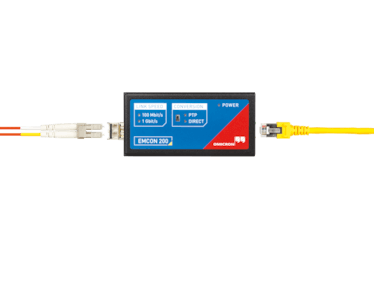 Key Features
Cut-through forwarding between twisted pair copper and optical fiber networks
PTP transparent clock according to IEEE 1588-2008 for preserving time synchronization
Link speeds of 100 Mbit/s or 1 Gbit/s (determined by the connected SFP transceiver)
Power supply with Power over Ethernet (PoE) or USB
Various fiber types (depending on SFP module) for high flexibility
Auto-negotiation with link partners
No frame size limit (jumbo frames support)
Link fault pass through
Low power consumption

Get in touch
Need more details? Get a quotation?
Request for a demo?
Contact us now