Need more details?
Get a quotation?
Request for a demo?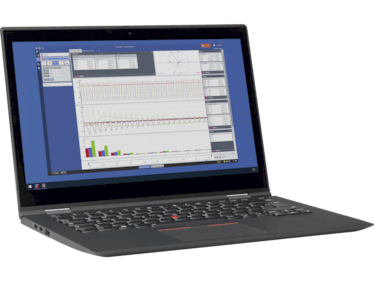 EnerLyzer Live
Real-time measurement and signal recording for CMC 430
Measure, Record and Analyze
EnerLyzer Live transforms your CMC 430 into a multifunctional measurement device, offering the functions of an oscilloscope, recorder, and analyzer all in a single software solution.
With EnerLyzer Live you can configure each input of your CMC 430 as a binary or analog measuring input and directly measure voltages as high as 600 VRMS. Currents are acquired via measuring shunts or current clamps. You can perform all measurements with EnerLyzer Live simultaneously to any ongoing protection testing tasks.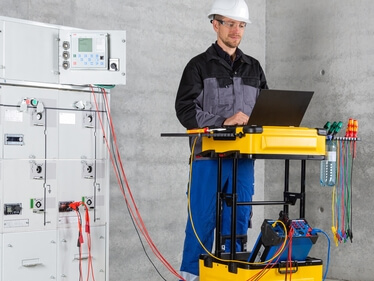 Broad Range of Applications
EnerLyzer Live offers a wide range of views and analysis tools: you can display both direct and derived measurands in multimeter view, as a phasor diagram, a time signal, and other views. The harmonic analysis facilitates the quick and easy examination of amplitudes and phase angles of all harmonics up to the 64th order as well as the total harmonic distortion (THD). You can also use your CMC 430 as a multichannel transient recorder. In addition to the analysis capabilities of EnerLyzer Live, the TransView license is included to enable an even more detailed view into recordings.
Combined, these tools are perfectly suited for all kinds of troubleshooting tasks during secondary testing and allow you to immediately evaluate the corresponding system parameters as well as to perform transient measurements and recordings.
Troubleshooting during commissioning or secondary testing
EnerLyzer Live can levy measurements from voltages, currents, binary signals, Sampled Values, and GOOSE. In combination with the various visualization options ranging from multimeter, phasor, and time signal view over binary trace till bar graph (harmonic spectrum), EnerLyzer Live is the perfect troubleshooting tool during secondary testing.

Additionally, the general measurement functions of EnerLyzer Live also make it ideal for plausibility or wiring checks.
Transient recording and analysis of switching operation, transformer inrush, and motor startup
EnerLyzer Live enables you to measure transient events like:
Switching of circuit breakers

Transformer inrush

Motor startup.

Recording, understanding and thoroughly analyzing these types of events helps
to avoid damage to equipment (e.g., voltage surges in consequence of switching operations),

with the exact parameterization of protection relays (e.g., modelling of motor startup characteristics),

to check the proper function of auxiliary systems (e.g., point-on-wave controllers for circuit breakers),

to verify the correct function of protection systems (e.g., harmonic blocking function for transformer inrush).
Find further information in the application note linked below.
Measurement and analysis of synchronizing events
You can use EnerLyzer Live for measurements during generator synchronization with synchro-check and other synchronizing events.
Against the background of having 6 analog voltage outputs, the CMC 430 is the perfect test set for injecting and measuring back at the same time when testing paralleling devices.

Find further information in the application note linked below.
EnerLyzer Live allows you to perform simple circuit breaker checks. The software facilitates the indirect timing measurement of the main contacts of a circuit breaker with a CMC 430. The method is ideal for systems where the main contacts are not accessible, such as switchgear in operation or GIS, or if there are no auxiliary contacts available.

Additionally, you can utilize EnerLyzer Live for a first trip measurement and the recording of coil and motor current.

Find further information in the application note linked below.
Measurements in IEC 61850 hybrid or digital environments
With its capabilities of measuring and displaying GOOSE and Sampled Values, the EnerLyzer Live software is also perfectly suited for the IEC 61850 environment. Typical applications are checks of merging units as hybrid (analog and digital signals) devices or analysis in fully digital systems.

Find further information in the application note linked below.
Functionalities for power quality analysis
EnerLyzer Live comes with various PQ measurement functionalities. These allow you to check the quality of the supplied energy, investigate possible system perturbations or detect sources of disturbances. It features the measurement of:
Voltage and current unbalance

Frequency

Voltage dips, swells, and interruptions
Harmonics of voltage and current up to 64th order
A basic, yet very powerful application for EnerLyzer Live is its use as a multimeter to measure the following quantities:
Analog voltages and currents

Binary signals

IEC 61850 Sampled Values and GOOSE

Powers

Total harmonic distortion (THD) and harmonics
These multimeter functionalities of EnerLyzer Live are included with every CMC 430 free of charge – no additional license required.
Key Features
Observe and analyze all measurements live

Execute analog, hybrid and fully digital measurements and recordings including conventional signals, GOOSE and Sampled Values

Use time-synchronization with a PTP or IRIG-B time source

Measure with high precision at 40 kHz sampling rate

Perform automatic recordings with a trigger or manual recordings from live buffer

Use cursors for measurement and analysis

Export recordings as COMTRADE or CSV file
A completely flexible dashboard, numerous views and visualization options and versatile tools allow for various fields of application.
The intuitive user interface allows you to quickly and easily configure your test set.
Built-in power quality functionalities support the investigation of possible system perturbations and harmonic analysis
The option for user-defined calculated values makes usage fully customizable and flexible.
Perfect for transient recording and analysis of transformer inrush, circuit breaker switching, synchronization, and motor start-up events.
A customizable trigger logic with any required degree of complexity allows for targeted and specific automated recordings.
Get in touch
Need more details? Get a quotation?
Request for a demo?
Contact us now