Need more details?
Get a quotation?
Request for a demo?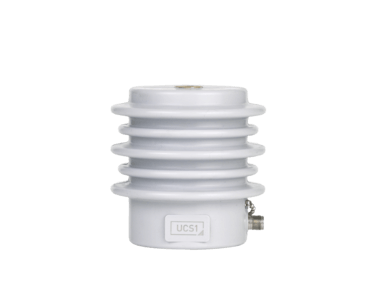 UCS1
UHF partial discharge measurement sensor
High-frequency PD measurements on power cables
Our UCS1 is designed for reliable partial discharge (PD) measurement on high-voltage (HV) power cables. The sensor performs PD measurements in high-frequency UHF range. This ensures a more sensitive detection of PD in environments with high interference levels.
Galvanically-isolated signal output
The sensor detects PD signals as transient pulses in the ground system of the HV cable and cable terminations. This is performed reliably in installations with or without parallel installed grounding connections. The signal output is galvanically isolated from the primary terminals to prevent induced currents along the signal cable.
Key features
Measures PD in high-frequency UHF range
Ensures sensitive PD measurements in noisy environments
Designed specifically for PD detection at HV cable terminations
Does not require parallel installed grounding connections
Galvanically isolated signal output prevents induced currents
Applications
PD measurement on HV power cables and cable terminations in areas with high interference
Get in touch
Need more details? Get a quotation?
Request for a demo?
Contact us now