Visual Inspections
Visual inspections are among the most used test methods worldwide. These inspection tasks usually take a considerable amount of time due to the manual process. Test device software with integrated visual inspection tests can support the process by providing highly configurable check lists and the possibility to easily attach pictures to the final test reports.
Expert recommends
PTM + PTMate
The Primary Test Manager (PTM) software is used to control test devices and derive and evaluate condition indicators from a variety of available test methods and provides a nicely formatted test report. This includes data from electrical measurements but as well from visual inspection tests. There, the PTMate App allows a seamless integration of pictures made by a smart phone into the final report.
Have you found the perfect solution for your switchgear testing needs yet?
Check out our new solution finder and be guided to an ideal solution in only three steps:
Benefits of this solution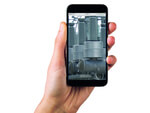 Send images into your database
Display wiring diagrams
Share jobs and reports
Get in touch
Need more details? Get a quotation?
Request for a demo?
Contact us now