Your direct link to us – 24/7
Highly qualified engineers are available for your concerns via our 24/7 support concept.
Help with operating our test sets and their software
Support during measurements and with analyzing measurement results
Advice on technical queries regarding installations
Contact for technically complex and challenging applications
How the 24/7 support works
Available day and night – even on weekends and public holidays
English-speaking support available
From engineer to engineer
Europe / Middle East / Africa
Repair and Calibration Service

Factory calibration (ISO 9001)
During factory calibration, the device is fully tested, calibrated, and then adjusted. All relevant, technical limit values are checked during an automated test procedure.

The factory calibration includes:
Safety and functional checks
Hardware and software updates
Adjustment to the optimal values that can be achieved
Calibration (as-left calibration) including calibration certificate and report
Upon request:
Input calibration (as-found calibration)

OMICRON has been ISO 9001 certified since 1998. As part of the requirements, we use measuring instruments that are sufficiently precise for quality assurance. All the relevant measuring instruments used are calibrated in an accredited laboratory.

Repairs
Problems can usually be solved over the phone or by doing a software update. If the item must be returned, then please complete the returns form fully beforehand.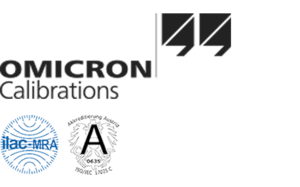 ISO/IEC 17025 calibration in an accredited calibration lab
For an ISO/IEC 17025 calibration, the device is calibrated by OMICRON Calibrations during an automated test procedure. OMICRON Calibrations is an independent, state-recognized, and accredited IEC 17025 calibration lab. All measurement results are traceable to national and international standards.

The ISO/IEC 17025 calibration includes:
Input calibration (as-found calibration)
Upon request:
Factory calibration by OMICRON electronics
Calibration (as-left calibration) including calibration certificate and report
Become a member of our OMICRON Community
and receive access to all our services
The latest product software updates
Test templates for over 400 different relays
More than 3,500 technical documents
Shared knowledge between more than 25,000 users
Expertise through training:
OMICRON Academy

The OMICRON Academy courses prepare you for real life test situations and offer you the perfect mix of theory and practice.