Need more details?
Get a quotation?
Request for a demo?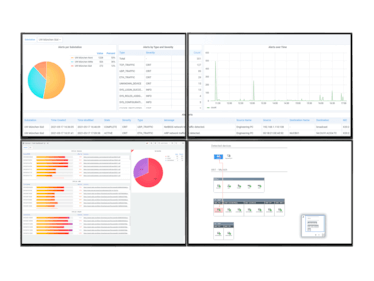 GridOps
Central Management System for StationGuard
Bridging the Gap: One Platform for IT and OT
Many industrial organizations still regard cybersecurity for the company's IT and OT (Operational Technology) as a unique issue that is often handled in isolation. While it is true that utility IT departments structurally and functionally vary between protection and SCADA departments, the need for convergence is becoming more critical. In this new era of increased and pervasive cyber threats, a structural change can no longer be viewed as a consideration or option. Quite the opposite the convergence between the two orbs needs to be a mission-critical goal.
GridOps - as part of our StationGuard solution - helps you bridge the IT and OT team gap. From analyzing security alerts to asset inventory and vulnerability management, GridOps brings security officers and protection and SCADA engineers together in one application. It delivers visibility into the assets in the networks across the power grid, gives the OT security team a centralized view of network activities, and provides them with a better idea of which behavior is normal and abnormal.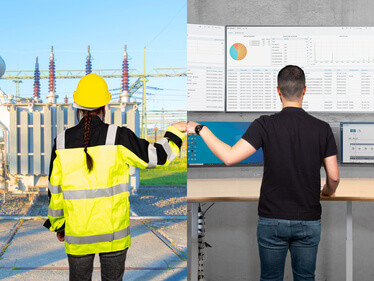 Get full visibility
GridOps empowers your team to respond to security threats and malfunctions. By providing a clear view of incident attributes and trends, your team will gain more insights into the risk and be competent in tracking overall security posture and grid health.

Visualize and collaborate
GridOps aims to streamline the work for IT and OT teams. As a result, both teams can benefit from the rich context and complete visibility to rapidly analyze and prioritize their response to security threats and functional issues across OT networks.

Most accurate asset inventory
GridOps automatically creates an asset inventory of all your networks. By combining information from the network with imported engineering files, GridOps knows your assets down to the hardware configuration and firmware version.

Shows only vulnerabilities that matter
Often tools display every vulnerability that even remotely applies, making it tedious to figure out which vulnerabilities pose a real risk. By using an expert-created database of device types and vulnerabilities, GridOps shows you only the vulnerabilities that are relevant for your system.

Detailed Reports
GridOps creates reports delivering early insights into cybersecurity trends and statistics, your asset inventory, and its vulnerabilities. By analyzing these reports, you can document the current state of your risk posture.
Manage all your cyber risks in one place
GridOps' integration of threat and alert analysis and its built-in knowledge about asset types and their vulnerabilities increases your power grid security. It enables you to identify, detect and investigate from a single platform.
You will feel confident and in command of your operations when time and information are on your side.
You can make critical decisions about your risk posture and ensure that security considerations cover all assets with this information. In addition, understanding your environment enables you to make better decisions about security and overall operations.
Use accurate knowledge of your devices to your advantage
Vulnerability and risk management processes in the power grid depend on a well-maintained asset inventory with precise information on device types and firmware versions. To identify which devices are affected by security advisories is tedious.
GridOps creates and updates the asset inventory automatically, collects detailed asset information from multiple sources like engineering files and network data. It also maintains a database of power grid automation device types and their fingerprints and an up-to-date database of all security advisories.
Vulnerability Management
Security advisories for protection, control or network devices warn of risks to the power grid. It is, however, a challenging task to determine whether these threats pose an actual risk to your system: You need to know the exact device type, module configuration, and firmware version to know if a vulnerability applies to your fleet of IEDs and network equipment. You also need to determine if the affected services are used in your network and whether they have been exposed or not. Another problem is that many vulnerability disclosures are imprecise and lack relevant information.
GridOps' vulnerability management was developed to take care of most of these tasks for you. Our security analysts created a database of known vulnerabilities for power grid automation which offers complete information. This database is also linked to an asset type database for identifying device types. Backed with the most precise asset inventory that GridOps provides, GridOps shows you only the vulnerabilities which are relevant toyour system.
Key features
Unified interface for seamless access to alert trends and statistics, global asset inventory, and network visibility.


Visualize asset inventory and associated security risks, threats, and malfunctions and track overall security posture.




Speed up analysis and investigation with automated data enrichment and context.




Centralize the communication and keep IT and OT teams in the loop.




Improves decision-making and efficiency within the organization
With OMICRON's expertise in implementing grid-specific intrusion detection systems, you will never again stumble with the lack of OT knowledge.
The StationGuard Solution
Combine StationGuard with GridOps:
Our central management system provides a central dashboard, detailed reports, and a global asset inventory for maximum security and transparency to your systems.
We highly recommend GridOps, especially if you use multiple StationGuard installations.
Choose your setup
You decide on the perfect platform for your intended use.
StationGuard and GridOps runs with RBX1 (fixed), VBX1 (virtual), and MXB1 (mobile) as sensor platforms.
Documents
Easy integration into your substations, SOC and control centres
Get in touch
Need more details? Get a quotation?
Request for a demo?
Contact us now