Need more details?
Get a quotation?
Request for a demo?
TESTRANO 600
Three-phase test system for comprehensive power transformer testing
Powerful and compact solution
TESTRANO 600 is the world's first portable, three-phase test system which supports all common electrical tests on single- and three-phase power and distribution transformers for routine and diagnostic testing on-site or during factory acceptance tests (FAT).
Using TESTRANO 600 enables you to perform various tests on power transformers without re-connecting. Thus, TESTRANO 600 cuts testing time down to one third compared to conventional single-phase test sets.

Simplified and faster testing
Safety first
TESTRANO 600 follows the "safety first" principle and fulfills the highest safety standards by providing an emergency stop button, safety and warning lights, as well as offering optional safety accessories.
Three-phase testing approach
TESTRANO 600 energizes all three phases at once allowing simultaneous testing of all three phases, for example, transformer turns ratio with 400 V L-L or winding resistance with 33 A. Ultimately leading to reduced rewiring effort and shorter testing times.
Intuitive connection
TESTRANO 600 offers custom-designed connector plugs as well as a dedicated color code on the side panel and on the cables. Both ensure safe and reliable measurements and leave almost no room for connection errors.
Active discharge
The active discharge function automatically discharges the winding within a matter of seconds, for example, after resistance measurements have been performed. This guarantees a high level of safety during testing and also reduces testing time.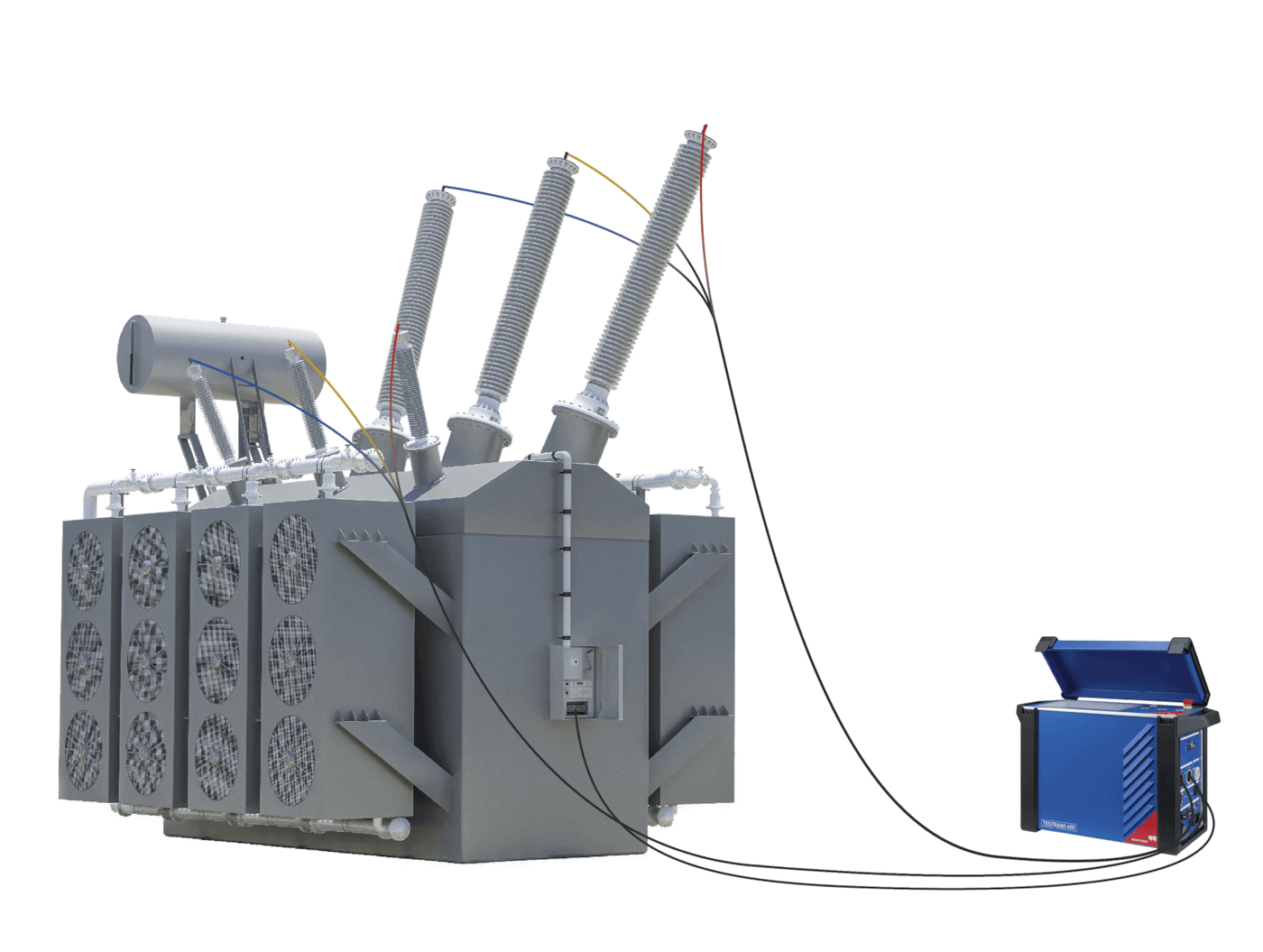 One system for multiple tests
Just three cables need to be connected to perform various tests with TESTRANO 600:
Transformer Turns Ratio
DC Winding Resistance
Dynamic Resistance
Demagnetization
Short-Circuit Impedance / Leakage Reactance
Frequency Response of Stray Losses
OLTC Scan / Dynamic Resistance (DRM)
Vector Group Check
Cooldown Test
Power Losses at Low Voltages
In order to perform power/dissipation, capacitance and exiting current measurements, you can combine TESTRANO 600 with the CP TD12/15 accessory.
The intuitive side panel and color-coded cables of TESTRANO 600 make it easy to connect, ensuring safer and reliable measurements.
By combining TESTRANO 600 with CP TD12/15, you can easily perform power/dissipation factor tests. Both components can be mounted on a trolley, which makes it easy to transport and, thus, ideal for on-site testing.
With the portable TESTRANO 600 you get all the required components in just one box. Its compact design and low weight (20 kg / 44 lbs) make it easy to transport.
Key features
True three-phase power transformer test system
Powerful device with 3 x 33 A DC or 400 V AC
Reduced connection effort as the same connection can be used for various tests
Three times faster testing
Total weight of 20 kg / 44 lbs – ideal for on-site testing
Did you know our Power Transformer Bundle?
One solution for comprehensive condition diagnosis of your power transformer.
It comprises the Primary Test Manager™ software and various OMICRON test systems.
Multiple ways to operate
TESTRANO 600 can be operated in multiple ways. You can use the smart TESTRANO TouchControl on the integrated 10.6", multi-touch display, or benefit from the step-by-step guidance by using the Primary Test Manager™ (PTM) software on your laptop. The PTMate app is our mobile companion for PTM and supports you on site by providing additional features on your smartphone.
Videos
TESTRANO 600 – Three-phase test system for comprehensive power transformer testing
TESTRANO 600 – Three-phase test system for comprehensive power transformer testing
Training
July 26 - 27, 2021

Training Center Shanghai, Shanghai, China
汉语
September 8 - 9, 2021

Training Center Klaus, Klaus, Austria
Deutsch
TESTRANO 600
,
Primary Test Manager (PTM)
September 9, 2021

Training Center Moscow, Moscow, Russia
Русский
Get in touch
Need more details? Get a quotation?
Request for a demo?