Need more details?
Get a quotation?
Request for a demo?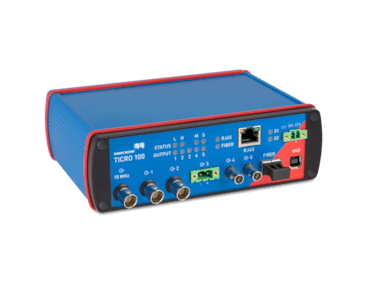 TICRO 100
IEEE 1588/PTP Time Converter
TICRO 100 is a Precision Time Protocol (PTP) time converter that allows you to derive a high variety of time codes from IEEE 1588/PTP packages received by Ethernet. This enables you to easily synchronize non-PTP equipment to the PTP Grandmaster of an IEEE 1588/PTP infrastructure.
Simply assign the time code or time reference signal required by your device to an optical, coaxial or optocoupler output using the TICRO 100's web interface.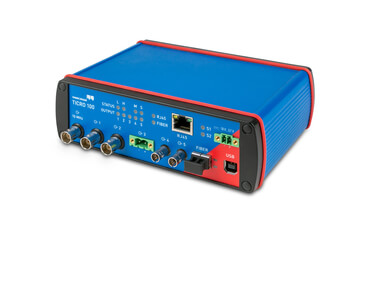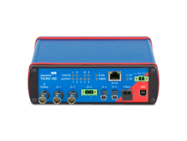 Key features
Easy integration of non-PTP devices into IEEE 1588/PTP infrastructures

Freely assign different time codes to coaxial, optical and optocoupler outputs

High stability internal oscillator for guaranteed time accuracy in case of PTP signal loss or network failures

Freely configurable trigger times for distributed measurements

Secure web interface for platform independent control via fiber or copper Ethernet

Industry hardened design for industrial environments such as IEC 61850 substations
Applications
Make Your Equipment PTP Capable
TICRO 100 generates required time codes right where they are needed, which makes separate networks for different time codes a thing of the past. Several IRIG-B time codes, DCF 77, and various pulse per second signals ensure time synchronization of a high variety of measurement equipment.
Synchronize Measurements
The programmable trigger functionality ensures that measurements at different locations are initiated at exactly the same time. Simply program the absolute time of the first trigger pulse, define the number of the succeeding pulses, and you are ready to go.
Distribute Reference Frequencies
Wherever you have access to an IEEE 1588 compliant grandmaster over ethernet, TICRO 100 provides you with a precise 10 MHz reference frequency signal. Simply lock your frequency counters, IEDs, or any other measurement equipment to TICRO 100.
Portable Time Code Generation
In combination with OMICRON's antenna-integrated PTP Grandmaster Clock OTMC 100, TICRO 100 becomes a fully portable time synchronization device. This allows you to perform time synchronized measurements in the field quickly and with very little setup time.
Flexible Mounting
TICRO 100 can be used as a tabletop device or mounted on any DIN Rail by simply adding the provided mounting bracket. Redundant power connectors at the front and back panel ensure full accessibility independent from the chosen use case.
Get in touch
Need more details? Get a quotation?
Request for a demo?
Contact us now