Transducer Testing
In power systems, electrical measuring transducers are still applied for different purposes. Because of cyber security issues, digital technology may not be able to replace classical transducers in the future. Transducers record electrical parameters such as voltage, current, frequency, phase angle, etc. and convert them into an analog output signal (for example, 0-10 V DC or 4-20 mA DC).
Switching operations or demands for additional power capacity via control centers are based on these measurements.
In order to guarantee their measurement accuracy, periodical calibration of the measuring transducers distributed in nodes all over the power system is of extreme importance.
Our transducer testing solutions consist of:
CMC test set
Operating software
All CMC test sets can be used for manual transducer tests that offer a read out of the measured quantities. For automatic testing and for calibration of the direct current / voltage output by the transducer select one of the following test sets:

CMC 256plus (high accuracy)
CMC 430 (high accuracy)
CMC 356 (high output range, operating only with ELT-1 hardware option)
Manual transducer testing

CMControl P is a cost-effective CMC operating option which is particularly suitable for quick and easy transducer tests.
CMControl P

Advanced and automated transducer testing

Test Universe is the first choice CMC operating option for parameter related testing of protection and measurement devices. It is ideal for performing automated transducer tests with advanced functionality (e.g. testing power factor transducer, automated testing, enhanced reporting).

The minimum requirements for transducer testing with Test Universe are:
Test Universe "Essential Package" plus the module "Transducer"

Test Universe (main software)
Transducer module (software module)
"Even at small amplitudes we can obtain highly accurate testing signals – this is really impressive."
(Customer quote)
Benefits of our solutions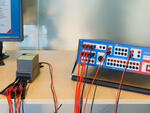 Reliable calibration
2 in 1
Videos
Testing meters & transducers
Testing of protection and measurement equipment
Get in touch
Need more details? Get a quotation?
Request for a demo?
Contact us now