Need more details?
Get a quotation?
Request for a demo?
CPC 100
Universal primary injection test set for substation assets
Discover our CPC 100
The patented CPC 100 primary injection test system replaces several individual testing devices. This reduces the costs for training and transport, and cuts down testing time. Therefore, the CPC 100 is the ideal test set for substation asset commissioning and maintenance. You can operate the CPC 100 via the integrated front panel, or by using the Primary Test ManagerTM (PTM) software on your laptop.
Five reasons to get CPC 100
Compact and lightweight
The compact, lightweight design (29 kg / 64 lbs) makes the CPC 100 easy for one person to transport and ideal for on-site testing in areas with limited space.
Powerful device
The powerful testing device provides up to 800 A or 2 kV (2 kA or 12 kV/ 15kV with boosters) with up to 5 kVA over a frequency range of 15 Hz to 400 Hz or 400 ADC.
Variable frequency
CPC 100 uses test frequencies different from the mains frequency offering an effective suppression of mains-related interference. Thus you obtain very accurate results even in noisy environments.
High level of safety
To protect you and your equipment, the CPC 100 fulfills the highest safety requirements when performing electrical tests according to IEEE and IEC standards.
Saves you time
The CPC 100 provides you with automated testing procedures and reporting to help you to work quickly and more efficiently.
CPC Sync
The CPC Sync feature 'provides the opportunity to synchronize up to three CPC100 testing systems. It can be used as a mobile and scalable HV source for on-site induced voltage tests on dry-type transformers (DTT) and gas-insulated switchgears.
"The CPC 100 and PTM are the ideal companions to accompany the use in his entire work place."
Martin Pfanner – Product Manager – Primary Test Manager
"With the CPC 100, a variety of test equipment can be replaced by only one multi-functional testing system."
Luis Carlos Ramírez Pernett, Substation Maintenance Scheduling Coordinator, Transelca
"The CPC Sync feature offers us a lot of flexibility and an expandable output of up to 15 kVA to perform demanding high power tests on site."
Christoph Engelen – Product Manager – CPC Sync
"When testing with the CPC 100, we no longer need to manually transfer measured values individually into the test report, but instead, can store them directly in the CPC 100 and retrieve them again later at the office."
Bernhard Anders, SAG Group GmbH
"In addition to the mobility, we especially appreciate that the testing system is easy to use."
Padraig O´Sullivan, Consultant for Asset Management Services, ESB International
Key Features
Up to 800 A or 2000 V with up to 5 kVA over a frequency range of 15 Hz - 400 Hz or 400 A DC
Excellent interference suppression facilitates measurement of small signals
Easy to transport (just 29 kg) – ideal for on-site testing
Testing templates, automatically generated testing procedures and test reports
Up to 2000 A or 12 kV/ 15kV through use of current or voltage amplifiers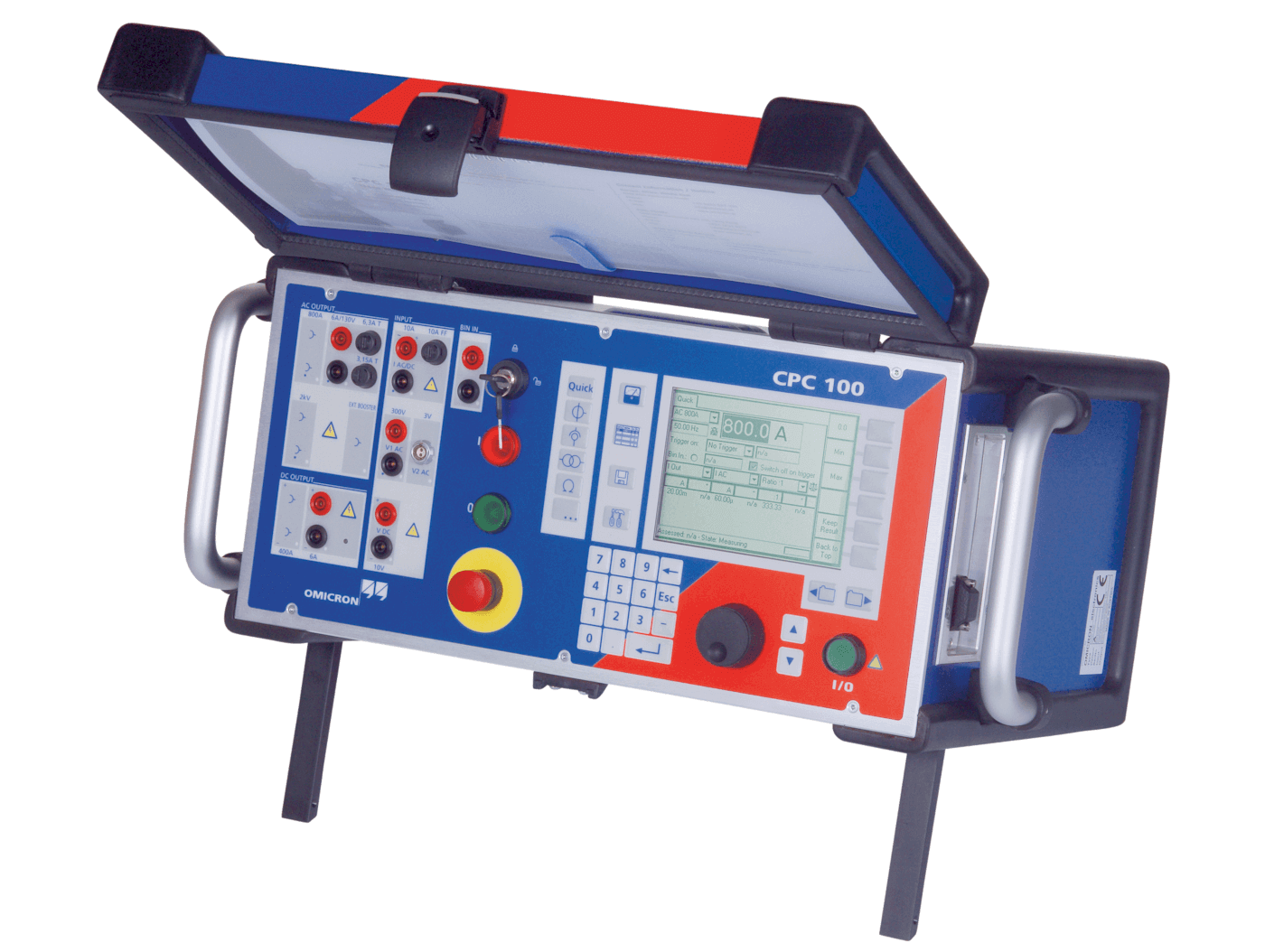 Applications
Current transformers (CT)
Voltage transformers (VT)
Transformers
Rotating machines
Grounding systems
Lines and cables
Circuit breakers
Did you know our Power Transformer Bundle?
One solution for comprehensive condition diagnosis of your power transformer.
It comprises the Primary Test Manager™ software and various OMICRON test systems.
Multiple ways to operate
To meet your personal preferences, the CPC 100 offers different operating modes for you to choose from. You can use the CPC 100 front panel for quick results and maximum flexibility or benefit from the guided test workflow, data management and automatic assessment using the Primary Test Manager™ (PTM) on a laptop or tablet. The PTMate app is our mobile companion for PTM and supports you on site by providing additional features on your smartphone.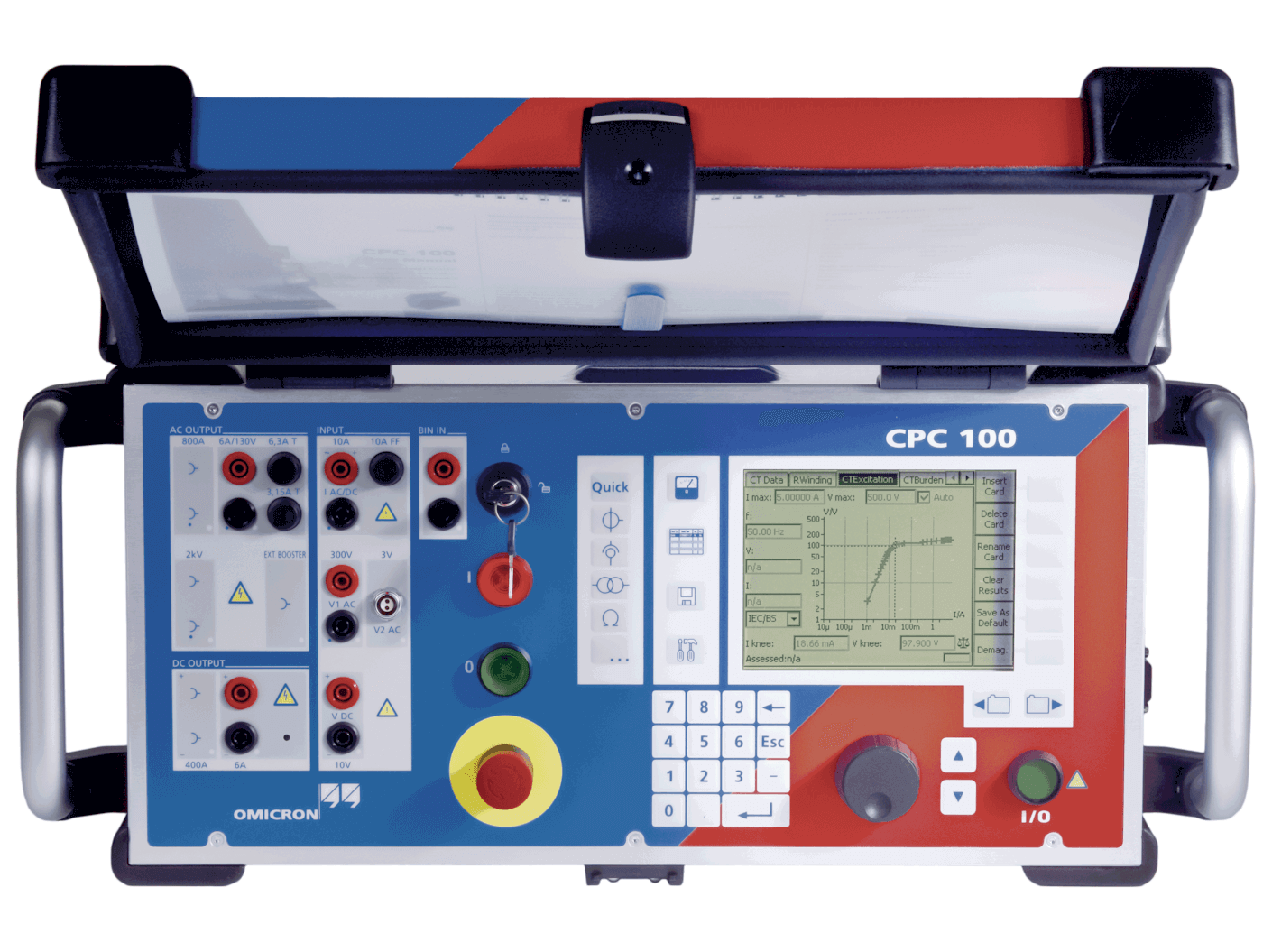 Videos
Testing Primary Assets with OMICRON and the CPC 100
Let Your Dreams Set Sail - How the CPC 100 became the reference point for multifunctional testing
Operating the OMICRON CPC 100
Training
December 9 - 10, 2021

OMICRON Academy Online, OMICRON Academy Online
English
MPD Series
,
MONGEMO
,
CPC Family
February 1 - 3, 2022

Training Center Grenoble, Grenoble, France
Français
DIRANA
,
TESTRANO 600
,
Primary Test Manager (PTM)
,
FRANEO 800
,
CPC Family
February 24 - 25, 2022

Training Center Klaus, Klaus, Austria
English
MONGEMO
,
MPD Series
,
CPC Family
Get in touch
Need more details? Get a quotation?
Request for a demo?