Moisture Analysis on Power Transformers
Moisture in the solid part of the paper insulation is one of the most important factors regarding the condition of power transformers. Moisture can enter a transformer's insulation from the atmosphere during installation or repair. An increase in moisture content in paper insulation accelerates its aging process. Moisture is also a byproduct of the aging process.
Moisture ingress in oil-paper installation has hazardous effects. The dielectric strength is reduced, the cellulose ages more quickly, and gas bubbles are built at high temperatures. All of these effects increase the risk of a sudden electrical breakdown.
Determining the moisture content within the insulation is therefore a very important way for assessing the reliability and lifetime of a transformer. While conventional methods are very inexact, our testing systems use dielectric measurements for moisture determination.
Expert recommends
DIRANA + PTM
DIRANA uses dielectric frequency response (DFR) analysis in order to determine the condition of high-voltage insulation systems such as those in power transformers, bushings, cables and generators.
It automatically analyses and determines the water content and the oil conductivity in different types of cellulose insulation. You can test assets filled with mineral oil, natural and synthetic ester as well as air or vacuum. The measurement results are shown in categories defined by IEC 60422.
Benefits of this solution
Moisture determination
Combined advantages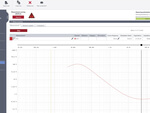 Software support using PTM
Easy and comfortable testing
Videos
What is Dielectric Response Analysis?
Get in touch
Need more details? Get a quotation?
Request for a demo?
Contact us now